Offering representation in all
aspects of personal injury law.
Philadelphia Personal Injury Lawyers
85+ Years of Experience Between Our
Philadelphia Personal Injury Lawyers.
Your
Personal Injury

Champions

The term "Personal Injury" can refer to a lot of things from a truck accident, to a slip and fall or even wrongful death. When you're the injured party, the nature of your claim is clear: you've experienced harm—and it's possibly the result of another individual's wrongful conduct that often requires medical attention. Our team of lawyers, experienced in United States Federal, Pennsylvania State and Philadelphia court systems, are fully invested in pursuing the best outcome for your claim. We're here to help guide you through this process.
Slip & Fall
Our team of personal injury attorneys can help you to recoup expenses associated with your serious injury at no cost to you. We'll review your information and represent you for free. We'll determine who is liable for your severe injury or if there were any premises liability issues where the injury occurred. Not sure if you have a case? Our experienced slip and fall attorneys will ensure your claim is treated with dignity and that you are compensated for your pain.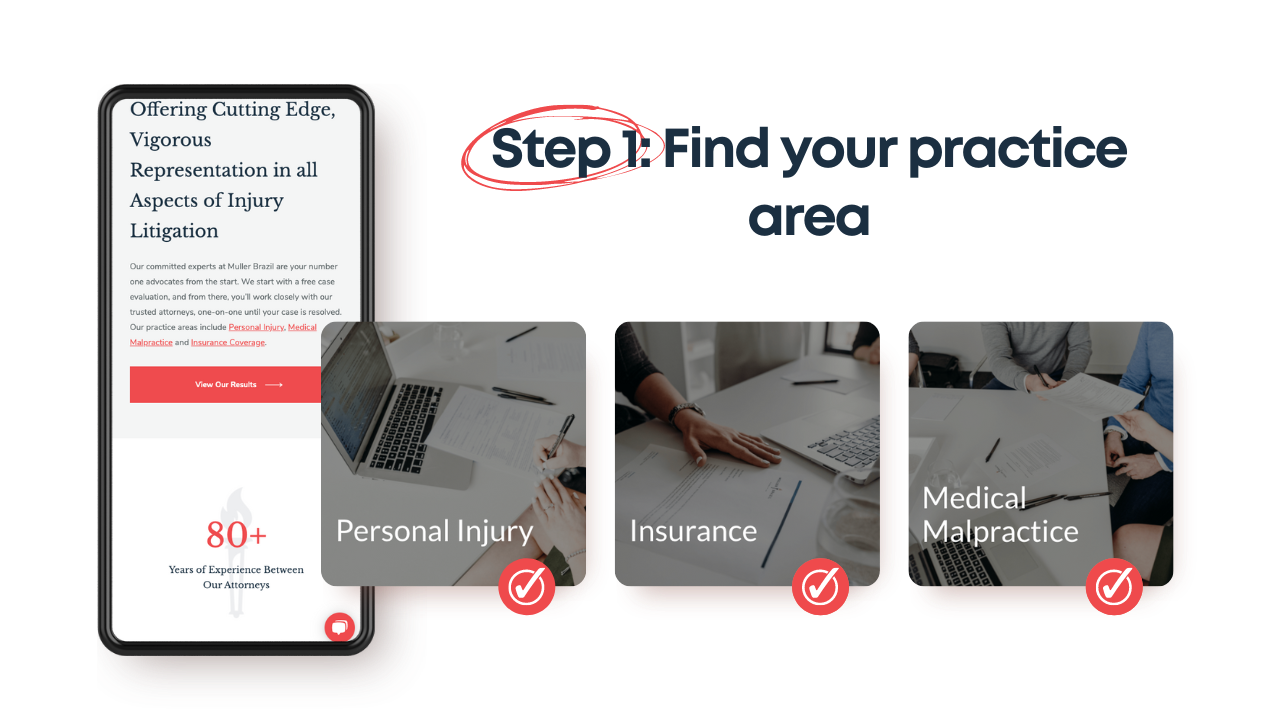 Workers' Compensation
If you've been injured at work, you likely have a long list of questions like, "Should I tell my boss?" "Will I lose my job?" and "Should I go back to work this week?" Our experienced Philadelphia lawyers have also represented those across Montgomery County, Chester County, Delaware County, and Bucks County. After your initial free consultation, we'll thoroughly investigate the accident, help you to submit your workers' compensation claim, ensure that you are treated fairly after a workplace incident, receive fair compensation, and have all of your medical bills and expenses covered.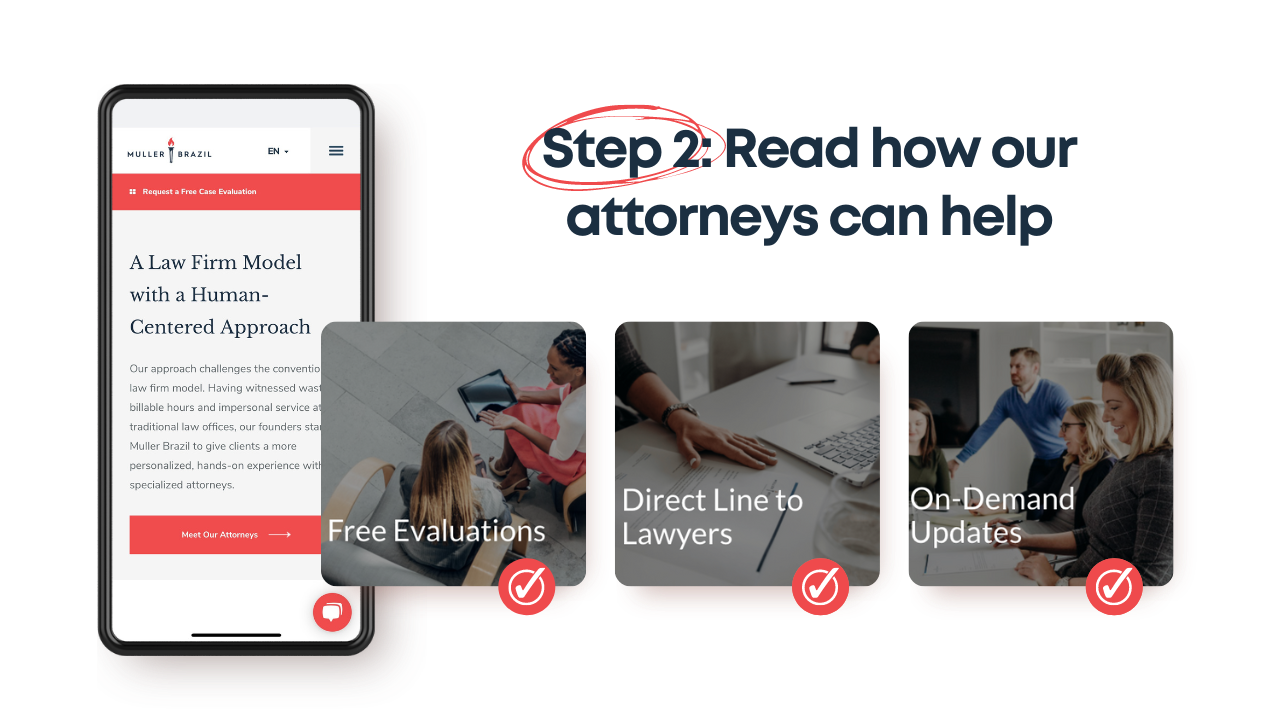 Medical Malpractice
If you've been hurt by a defective medical device, unsafe drug, dangerous product, or vaccine, Muller Brazil can help you build a medical malpractice or product liability claim. Your specialized defective product lawyer will comb through your medical records, account for your emotional distress and medical expenses, and obtain the rightful financial compensation that you are owed. Learn about legal representation from Muller Brazil and contact us today.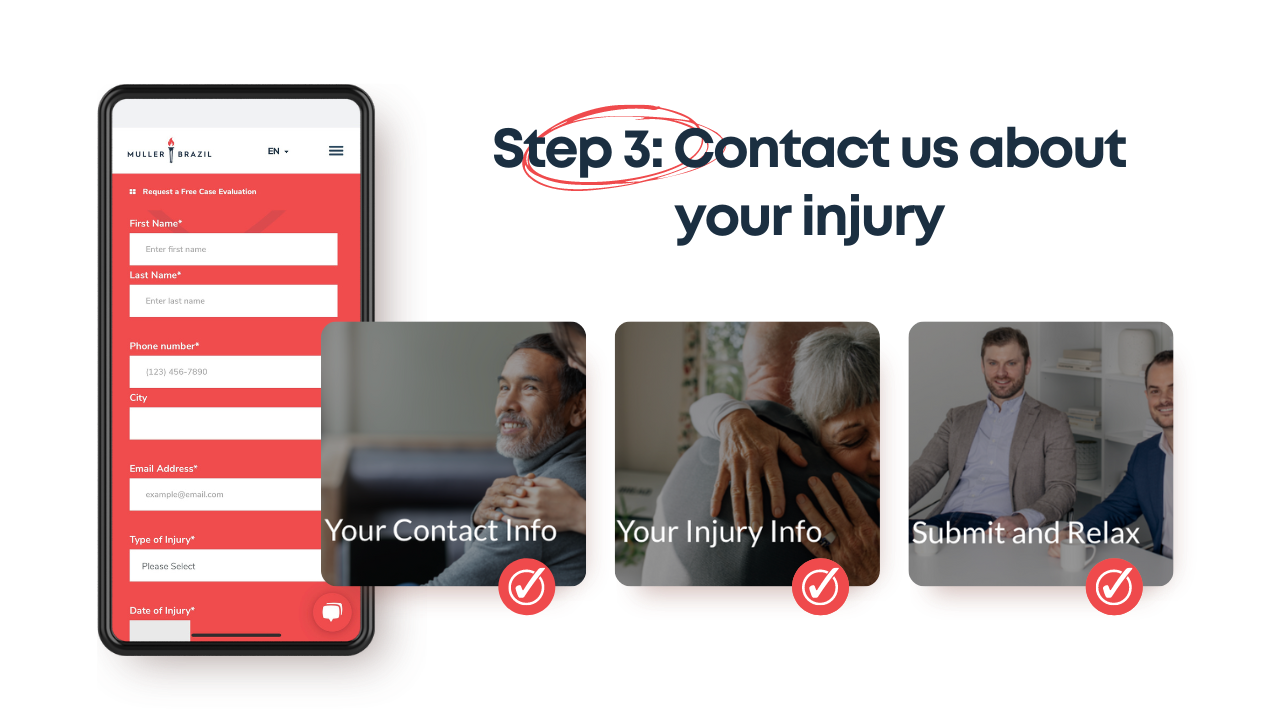 Professionalism
We provide efficient and effective legal counseling and representation.

Integrity
We work to earn the trust, respect, and loyalty of our clients.

Dedication
We work tirelessly for our clients, never billing by the hour for our time.
Why Muller Brazil?
The personal injury lawyers at Muller Brazil are here to help you get proper compensation for the medical expenses, lost wages, and pain and suffering you've experienced as a result of your injury. If you or anyone close to you is experiencing pain, discomfort, emotional distress, decreased quality of life, or suffered a wrongful death that resulted from an injury someone else is responsible for, our law firm will win you fair compensation for your severe injury. Put simply, we will not be satisfied until you are - our experienced Philadelphia injury lawyers and supporting legal team are ready to fight for you.
Our Consultations
Are Always Free.
Give us your name, phone, city, email and injury info so we can contact you as soon as possible for a consultation.
Don't worry, you won't be passed along to staff like other law firms - speak directly with our lawyers today.