How long does a car accident settlement take?
Car accidents can be frightening and have a devastating impact on your life. Not only are you suffering with physical pain, you are also burdened with financial stresses such as repairing your vehicle, medical bills, and potential loss of wages. Understandably, you want to be compensated fairly, and quickly. Fortunately, almost all cases resolve without having to go to a trial. However, the time it takes to settle your case depends on many factors such as the severity of your injuries, and time it takes to recover, the at-fault driver's insurance limits, tort selection, and liability defenses.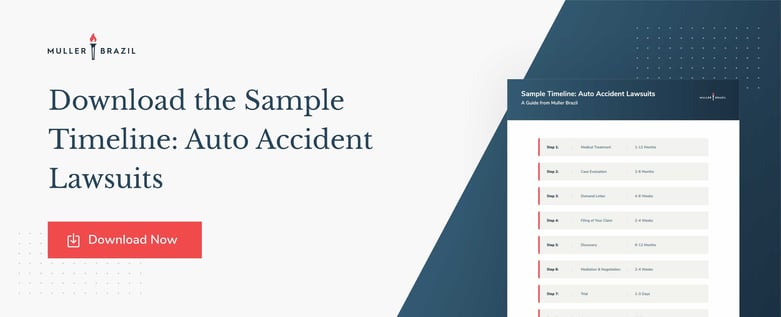 Car Accident Settlements in 8 Steps
Step 1: Seek Medical Treatment (1-12 months)
Seeking proper medical treatment for injuries following your motor vehicle accident is time consuming, but necessary. Failure to do so can delay your recovery and your personal injury claim, and impact your settlement amount. It is important to follow the guidance of your treating physicians until you reach a full recovery or maximum medical improvement. Depending on the severity of your injuries, this can take weeks to several months.
Step 2: Get Your Case Evaluated by a Lawyer (2-6 months)
Once you recover from your injuries, or reach maximum medical improvement, your attorney will begin to collect evidence needed to support your damages. For example, your attorney will need to review all medical records and bills, property damage estimates, wage loss verifications, and any out of pocket expenses you may have. The time it takes to gather this evidence varies—to a large extent depending on your treatment, but in general can take anywhere from 2-6 months. The quicker you provide the information requested by your attorney, the better situated they will be able to assess your case.
Step 3: Send a Demand Letter (4-6 Weeks)
Once you have completed treatment, and your damages have been assessed, your attorney will most likely attempt to negotiate your claim prior to filing a lawsuit. They will typically start with sending a demand and typically receive a response within 4-6 weeks.
Step 4: File an Insurance Claim (2-4 Weeks)
If you are unable to resolve your case prior to filing a court case, your attorney will initiate a lawsuit by preparing a complaint which you will review and verify. It will then be filed and served on each of the Defendants. From there, the Defendant(s) will have 20 days to file a response.
Keep in mind that just because you file a lawsuit, your case will not necessarily go to a trial. In fact a small percentage of cases do. Cases can settle at any time, including during trial.
Step 5: Move to Discovery (6-12 months)
The pace in which your lawsuit moves depends on many factors including the jurisdiction you're in, the number of Defendants involved, and the complexity of the legal issues. The term known as discovery is a means for each of the parties to exchange information, assess damages, and establish defenses. The lawyers at Muller Brazil will walk you through each of these steps to make sure the information is complete and accurate, and portrays your case in the best way possible. Depending on the case, this can take anywhere from 6 months to a year.
Step 6: Mediate and Negotiate (2-4 Weeks)
Once discovery is complete, the parties have essentially laid their cards on the table. At this point, your attorney may recommend an alternative dispute resolution mechanism such as arbitration or mediation. This is a chance for both sides to listen to the strengths and weaknesses of their case and negotiate fairly.
Step 7: Go to Trial (1-3 days)
If you cannot settle your case, and you proceed to trial, it will usually take a day or two.
Step 8: Settle
Reaching a settlement is only one way to resolve your case. However, if you choose to settle, once you sign and return the release agreement, you will usually obtain your settlement check within 30 days.
Auto Accident Frequently Asked Questions
How long does it take to get a settlement check from a car accident?
This depends on the facts of your case, but in general, anywhere between 9-18 months.
How long does it take to get an insurance check from a car accident?
Once you return a signed release, you will likely see your check within 30 days.
Why is my car accident settlement taking so long?
Usually when this happens, the parties disagree as to your case value.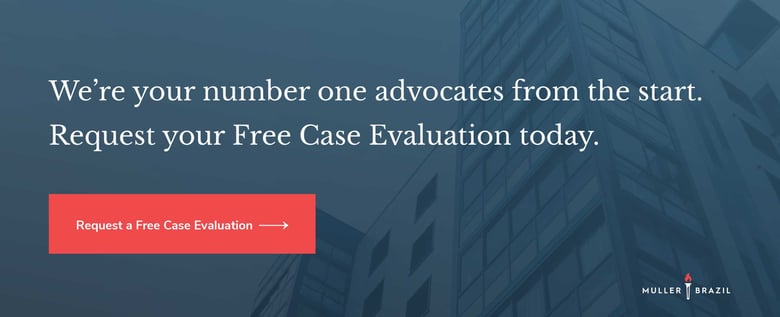 Get a Free Case Evaluation
Connect with Muller Brazil today to review your case for free, no commitment.