In the aftermath of a motor vehicle accident, premises liability (slip & fall) accident, or other type of personal injury, the injured party has a legal right to pursue compensation. The harms and losses stemming from the underlying injury or accident, including medical bills, lost wages and legal costs, can often seem daunting and difficult to quantify. If you or a loved one has been injured, the last thing you should need to worry about is how to pay for an attorney who will fight to protect your rights and interests. Read on to explore typical costs associated with legal representation and find resources to aid in your search for an experienced lawyer.
Are you injured and worried about the cost of an attorney? Read on.
How much do personal injury lawyers charge per hour?
Our approach to representation varies from that of a traditional law firm. Our clients receive prompt, professional service from experienced lawyers who do not bill by the hour. Rather, our attorneys are compensated directly by the insurance company after your case is won.
Each client can expect regular communication with their attorney with no associated costs. As a result, we are able to establish trusted attorney-client relationships that allow for the best possible outcomes.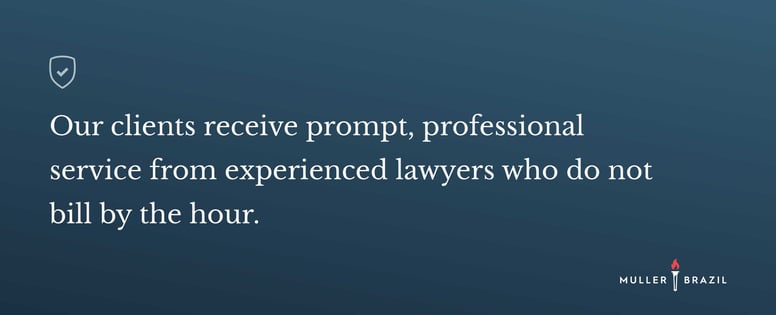 How and when does a personal injury lawyer get paid?
The at-fault party's insurance company is typically the entity responsible for paying out your settlement or judgment. When a settlement or judgment is obtained in your favor, the agreed-upon fee is deducted from that payment after any outstanding liens or other debts are paid. You are not responsible for any payments prior to a settlement or judgment, nor will you be expected to pay for services beyond what was agreed to at the time you retained our firm to represent you.
How much does a personal injury lawyer get paid?
The percentage that a personal injury lawyer can receive through a contingency fee agreement typically ranges between 25 and 40 percent, with 33.3 percent being the most widely accepted rate. In other words, the fee for legal representation is dependent on the amount received through settlement or judgment and is not a fixed cost.
What is a contingency fee?
Muller Brazil utilizes contingency fees rather than standard hourly rates. This means that our firm will not receive attorney's fees unless the client receives monetary recovery through a settlement or judgment. Our team of professionals agree to work on your case and pursue compensation for your injuries and losses for a portion of any potential recovery.
How most contingency fees fees are calculated
In most contingency fee agreements, your lawyer will agree to pay all expenses that he or she feels are necessary to assure that your lawsuit will be decided in your favor, with the expectation that these expenses will be repaid once the claim has settled. These expenses include items such as: (1) filing fees; (2) deposition costs; (3) locating and retaining expert witnesses; and (4) obtaining copies of accident reports and medical records.
As an example, suppose you were involved in a motor vehicle accident. Your lawyer sends a demand letter to the other driver's insurance company and a settlement of $90,000 is reached. Assuming a 33.3% contingency fee arrangement, your attorney will receive approximately $30,000. It is important to carefully review your contract for legal services and speak with your attorney about any confusion regarding contingency fees.
What happens if I don't win my case?
Our clients never receive bills and do not pay anything prior to obtaining a favorable settlement or judgment. In the event that no favorable outcome is reached, the client is not responsible for any fees. This type of arrangement allows for no risk on the part of the client and removes the burden of an upfront retainer fee.
When our firm agrees to represent a client in a particular matter, we believe that a positive result is likely and are investing our time and resources to help the client recover. Our human-centered approach prevents wasteful billable hours and yields personal and honest representation.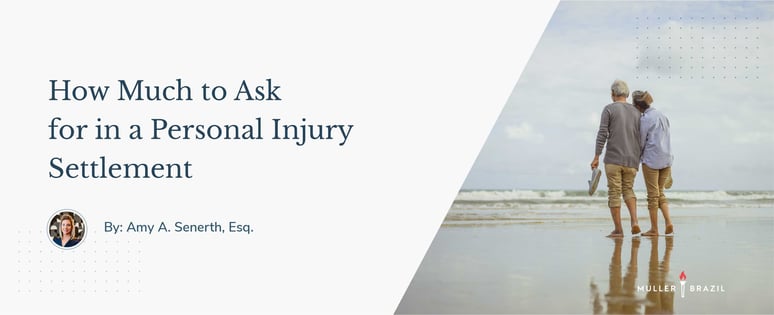 Find out what your claim is worth.
How much should you seek in economic damages, emotional distress, and physical pain? Find out in this article: How Much to Ask for in a Personal Injury Settlement.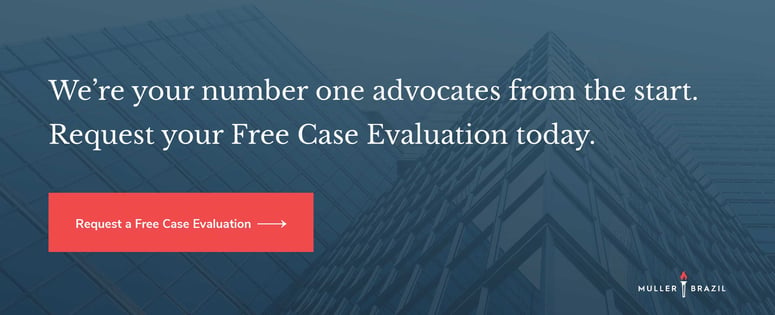 Request a free case evaluation
An experienced member of our personal injury attorney team can provide you with a case evaluation at no cost to you. Don't delay. Contact us today.