Construction Accident Injury Lawyer Philadelphia
Muller Brazil is your reliable ally in legal advocacy for construction accident cases in Philadelphia.
Need an attorney as soon as possible? Call us today.
Construction Accident Injury Lawyer Philadelphia
Muller Brazil is your reliable ally in legal advocacy for construction accident cases in Philadelphia.
Construction Accident Injury Lawyer Philadelphia
We acknowledge the profound impact that these accidents can have, resulting in severe injuries or tragic loss of life. We are dedicated to delivering compassionate and aggressive representation, ensuring our clients receive the rightful compensation they deserve. With our accomplished team of construction accident attorneys in Philadelphia, we boast a consistent history of triumph, having represented countless clients in comparable situations. We spare no effort in meticulously examining the specifics of each case, gathering compelling evidence, and formulating a robust legal strategy to optimize our client's recovery.
The Muller Brazil team has been fighting for years to serve the individuals who have been injured through negligent behavior and poor working conditions on construction sites. Our attorneys will guide you through each step of the legal process so that you can merit the compensation you deserve and begin to build toward a brighter future. Muller Brazil takes great pride in offering personalized and dedicated service to our clients.

Construction work is considered one of the most dangerous in the US. Shockingly, recent statistics reveal that over 20% of all work-related fatalities in the United States occur within the construction industry, according to the Occupational Safety and Health Administration (OSHA). Your profession carries inherent risks, so you deserve to be represented by an expert team!
STEP 1 - CONSTRUCTION ACCIDENTS WE REPRESENT
We have dealt with several different cases of construction accidents:
Machinery accidents: While heavy machinery is essential for construction projects, malfunctions or operator negligence can pose significant worker risks.
Exposure to dangerous chemicals or toxins: Construction workers risk respiratory illnesses when inhaling certain chemicals or toxins.
Height-related accidents: Falls from heights, such as scaffolding accidents, ladder mishaps, and roofing incidents, can have severe consequences for construction workers.
Slip and fall incidents: A simple slip and fall on the ground can cause significant injuries like broken bones, sprains, and other harm.
Electrocutions: The presence of electrical equipment, wiring, and lightning pose electrocution hazards for construction workers.
Repetitive stress injuries: Certain construction tasks that require repetitive motions can result in stress-related injuries affecting areas such as the back, wrists, ankles, and joints.
These are just some of the many factors that can cause construction accidents. We are compelled to highlight the significance of reaching out for legal representation as the statistical reality and seriousness of a potential injury are far too common. By understanding these causes, construction companies, site managers, and colleagues can collaborate to implement safer standards for all those who put themselves at risk.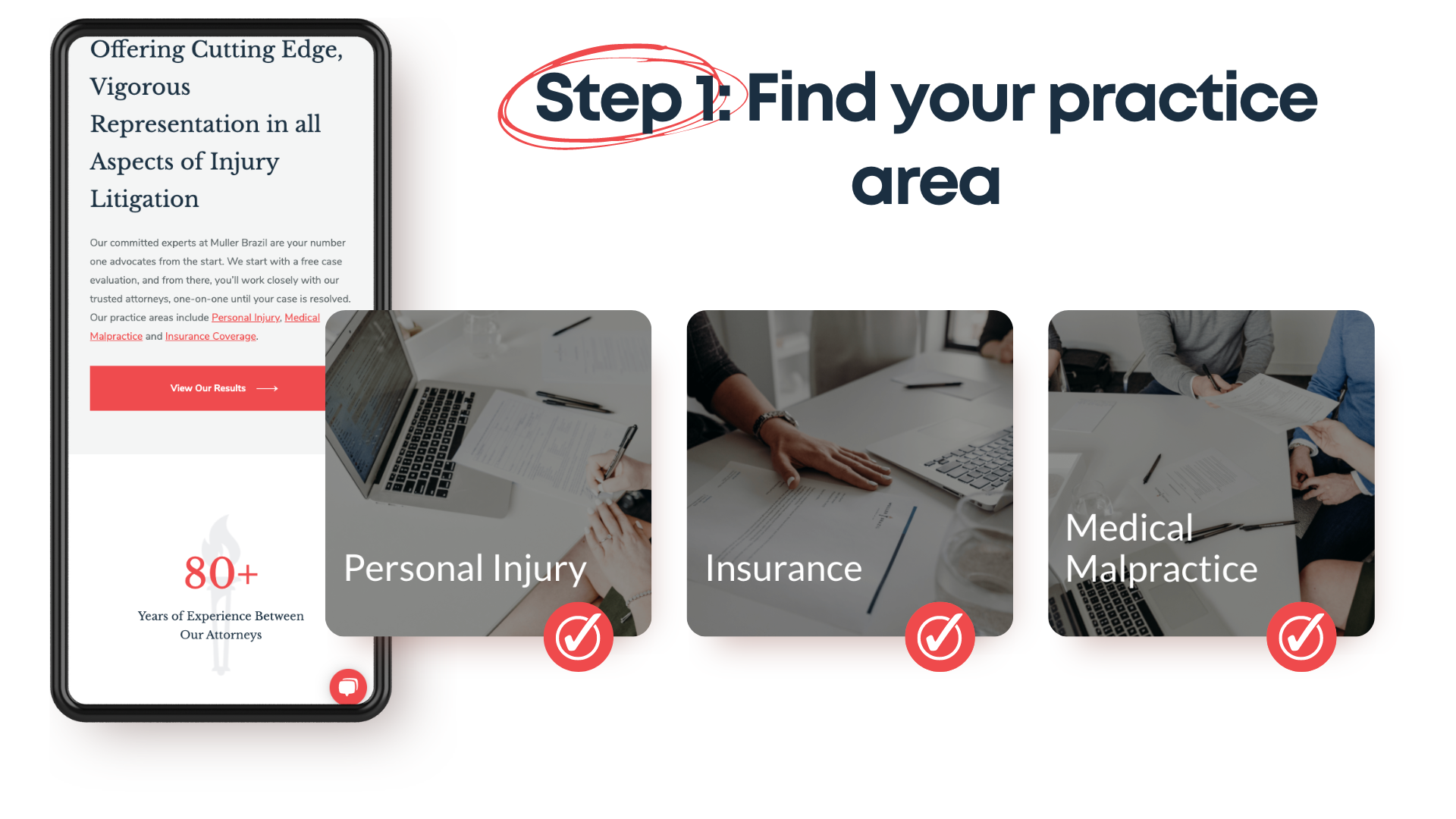 "I could write a book about the staff at Muller Brazil. Simply put, they are lifesavers." - Nikki T.
STEP 2 - WHY CONTACT MULLER BRAZIL?
When pursuing maximum compensation for construction accidents, experience matters, and our Philadelphia-based lawyers have everything ready at their disposal to help you seek what you deserve.

Our commitment lies in providing personalized service that caters to the distinct needs of each individual that comes to us. Recognizing the individuality of every case, we aim to offer comprehensive legal support while ensuring our clients are kept well-informed throughout the process. Our team of seasoned construction accident lawyers is accessible round the clock to respond to your inquiries and address any concerns.
WHERE YOU CAN FIND US
Our primary office is conveniently situated just outside Philadelphia, at 715 Twining Road, Suite 208A, Dresher, PA 19025. Visiting our office may only be feasible for some, so we also provide virtual consultations. Whether in person or virtually, our team of skilled construction accident lawyers is ready to assist you in obtaining the rightful compensation you deserve. Contact us today for a complimentary consultation and learn more about how we can support you.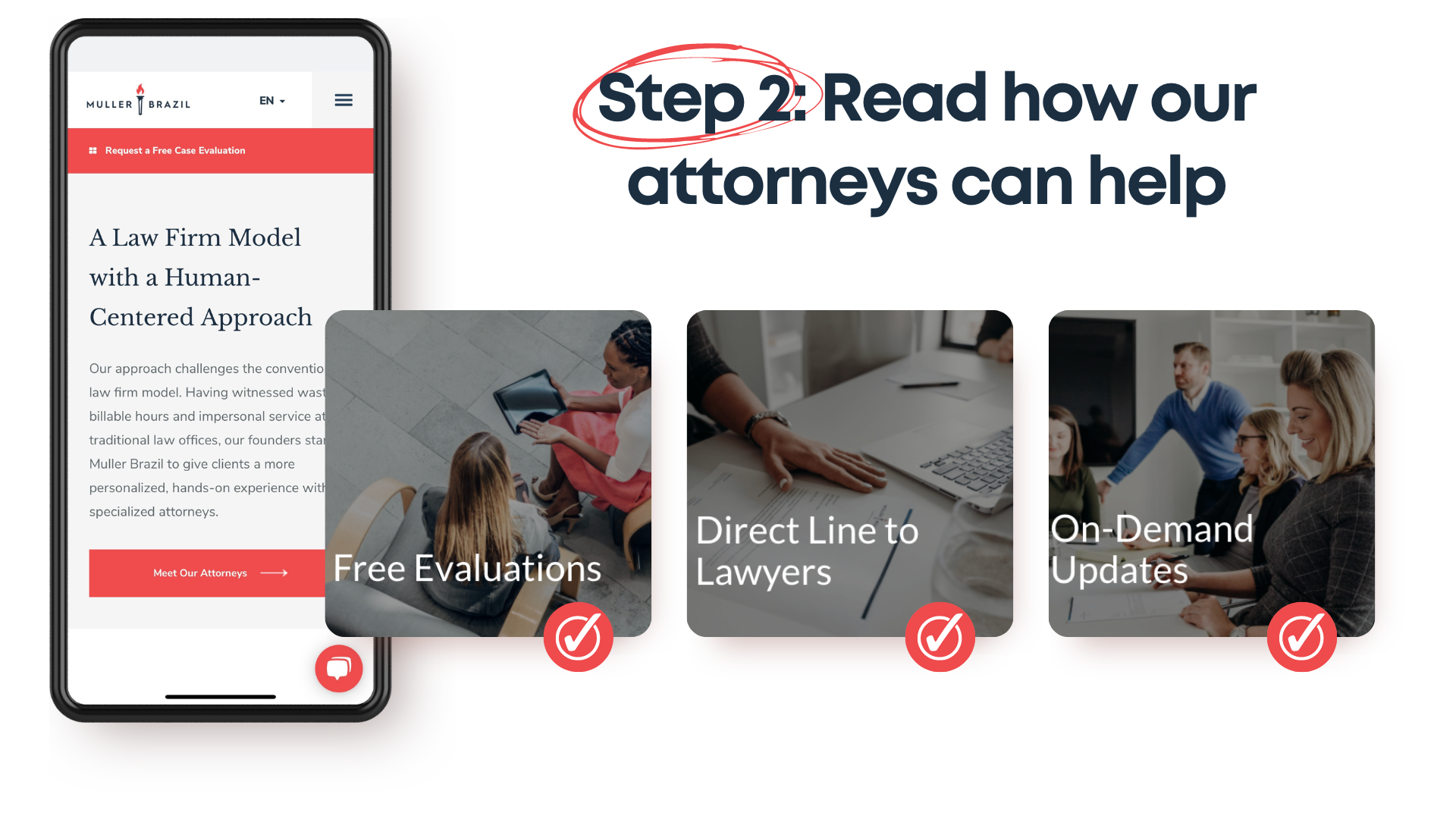 STEP 3 - PROVING NEGLIGENCE
You may seek information about your legal options when facing a construction-related injury. Your injury could be a result of workplace negligence.
Negligence can manifest in various forms within the construction context. Examples of construction negligence may involve:
A distinct lack of adequate guidance from your superiors leading to an unsafe situation.
Use of unsafe or poorly maintained tools and equipment.
Equipment or vehicle malfunctions.
Unsafe working conditions.
Insufficient training for hazardous environments.
Presence of unsafe, untrained, or unaware coworkers.
Regardless of the nature of negligence contributing to your injury, you must satisfy two essential elements for a court to deem negligence in your case. You need to demonstrate that a duty of care was owed to you and breach of contract.

WHO HAS THE DUTY OF CARE?

The unique nature of a construction site involves multiple individuals who may be involved in the work or responsible for the equipment. This can include various parties such as the construction company, architect, site manager, contractors, and even fellow employees.

Determining liability in a construction claim can be a challenging task to navigate. With our expertise in investigating such claims, we can assist you in identifying the party or parties responsible for your accident.

BREACH OF CONTRACT

Breach of contract is the next crucial element to establish after proving a duty of care. It signifies that a party responsible for fulfilling their duty of care has failed to do so without a valid reason, resulting in a breach of duty or contract.

In the construction industry, breaches of this standard of care can take various forms, such as employers failing to provide a safe workplace, intoxicated coworkers, and manufacturers selling defective machinery or equipment.

These examples demonstrate how breaches of contract can occur. If you believe your injury resulted from a party's failure to fulfill their duty towards you, contact Muller Brazil to learn what you could be entitled to.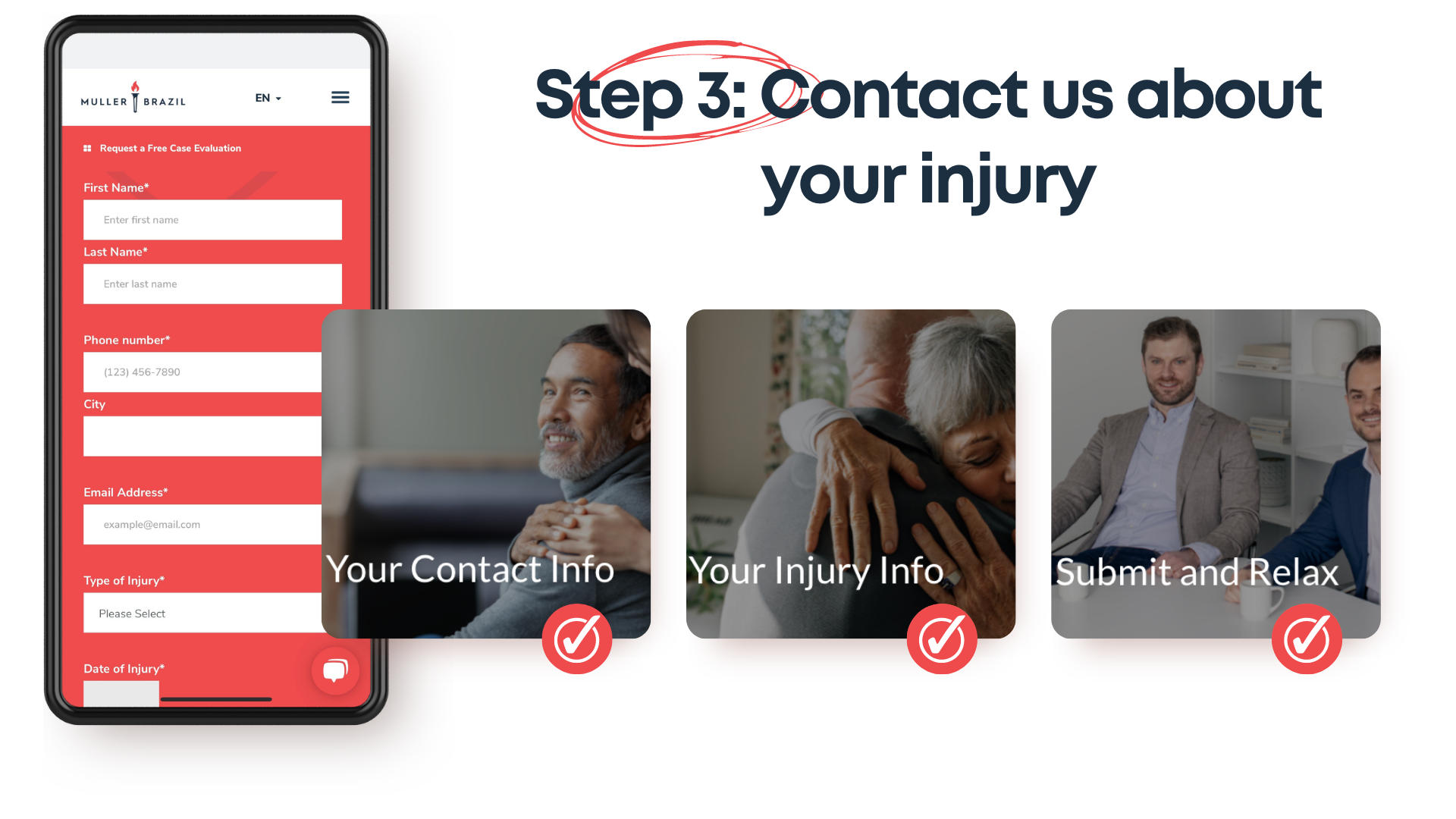 Why Choose Muller Brazil?
Muller Brazil is a personal injury firm who has years of experience dealing with insurance companies and Pennsylvania Workers' Compensation regulations. We're your support team when an injury has put you out of work. When you engage with Muller Brazil for your workers' compensation claim, we investigate all of the details of your incident to ensure that you receive the maximum benefits allowed so you can continue to provide for your family throughout your recovery.
HOW MUCH CAN I EXPECT FROM A PAYOUT?
Construction accidents are highly variable in terms of the type of accident and its severity. Therefore, such cases have no meaningful "average" settlement amount. Instead of relying on an average figure, consulting with a construction accident lawyer who can assess your specific situation and calculate the appropriate value of your claim is crucial.

Construction is recognized as one of the most dangerous industries, given hazards such as power tools, heavy equipment, chemicals, hazardous materials, loud noises, and heights. Studies show that 30% of construction workers suffer from back pain and/or musculoskeletal injuries, according to the International Labor Organization (ILO). Despite safety improvements in recent times, accidents still occur, even when safety measures and procedures are in place.

Construction accident lawsuits often involve substantial settlements. While some cases may result in five-figure settlements, many reach six or even eight figures. At Muller Brazil, we operate using a contingency fee arrangement. This means you won't pay any upfront fees, and we will only receive payment if you successfully collect compensation. This arrangement incentivizes us to work diligently on your behalf to maximize your financial recovery.
WHAT ABOUT WORKERS' COMPENSATION
While many construction accident claims are resolved through workers' compensation, lawsuits become necessary for severe injuries where damages exceed coverage. It's important to note that accepting workers' compensation may waive your right to file a lawsuit. Various parties, including employers, property owners, and tool manufacturers, may bear responsibility for your accident. It is essential to seek advice from a construction accident lawyer to determine the best course of action for obtaining compensation.
IMMEDIATE STEPS TO TAKE AFTER A CONSTRUCTION ACCIDENT
If you are in a construction accident in Philadelphia, immediate action is crucial to safeguard your rights and secure the compensation you're entitled to. Take the following urgent steps after a motorcycle accident:
Prioritize medical attention: Your well-being comes first. Even if you don't feel injured, seek medical assistance promptly. Some injuries may not manifest immediately, and a thorough examination is essential.
Report the accident immediately: Notify the police immediately and obtain a copy of the accident report. This report will serve as vital evidence if you pursue a compensation claim.
Collect compelling evidence: Capture photographs of the accident scene, documenting your motorcycle's damage and other vehicles involved. Obtain contact details of any witnesses and note anything else that may be relevant.
Consult a motorcycle accident lawyer urgently: Seeking guidance from a motorcycle accident lawyer is imperative. They will guide you through the legal process, safeguard your rights, and ensure you receive the rightful compensation you deserve.
Notify your insurance company promptly: Inform your insurance company about the accident as soon as possible. Please exercise caution when providing statements, as they can be used against you in the future.
Construction accidents are hard enough to deal with as an isolated event. Act swiftly to protect your rights. Contact a reliable construction accident lawyer immediately to discuss your case and pursue the compensation you deserve.
WHAT DO WE DO TO GUARANTEE THE BEST RESULT?
When you entrust your case to our construction accident lawyers, you can rest assured that you are in capable hands. Our lawyers will leverage their extensive knowledge and experience to provide the following assistance:
Meticulous attention to detail: We must learn the truth to build a watertight case. Our lawyers will diligently investigate your accident, collect pertinent evidence, and interview witnesses to build a compelling case for compensation.
Aggressive Negotiations: Institutions, organizations, and individuals are reluctant to part with their money, so a fair settlement is only sometimes easy to acquire. Our lawyers will serve as your staunch advocates, skillfully negotiating with whomever to ensure you receive the full and fair compensation you deserve.
Experienced Representation: Our lawyers have a proven track record of success in and out of the courtroom and will tirelessly fight for your rights at every stage.
Personalized Attention: We recognize that every construction accident case is unique. Hence, you will work closely with one of our fully qualified lawyers, not paralegals. While exploring all avenues for the best possible outcome, we treat each client as an individual, not a claim number.
Don't delay seeking the assistance you require. Contact us today to arrange a complimentary consultation and discover more about how our Philadelphia motorcycle accident attorneys can assist you!
Our Consultations
Are Always Free.
If you or a loved one has suffered a traumatic brain injury (TBI), don't hesitate to contact Muller Brazil Law Firm for a free consultation. Our experienced Philadelphia brain injury lawyers are here to provide you with the legal guidance and support you need during this challenging time. During the free consultation, our team will listen to your story, understand the details of your case, and assess the potential legal avenues available to you. We will answer any questions and provide you with a clear understanding of your rights and options.
At Muller Brazil Law Firm, everyone deserves access to justice, regardless of their financial situation. That's why we offer a free consultation to discuss your TBI case without any upfront costs. We will evaluate the merits of your case and provide honest and insightful advice regarding the best course of action.
Contact us today to schedule your free consultation with our experienced Philadelphia brain injury lawyers. We are ready to fight for your rights and help you seek the compensation you deserve for your traumatic brain injury. Don't face the legal challenges alone – let Muller Brazil Law Firm be your trusted legal advocate.