Philadelphia Workers' Compensation Lawyers
We're your advocate for workers' compensation claims.
Get the justice you deserve with experienced Philadelphia personal injury lawyers.
If you've suffered an injury due to someone else's negligence, you don't have to face the consequences alone. We understand the physical, emotional, and financial toll an accident can have on your life. That's why we're dedicated to fighting for your rights and holding the responsible parties accountable. Our Philadelphia personal injury lawyer team is here to help you get the compensation and justice you deserve. With years of experience and a track record of successful cases, we have the knowledge and expertise to help you navigate the legal process and achieve a favorable outcome. Keep reading to learn more about our services and how we can help you get back on track after an injury.ctive representation to car accident victims.
Need an attorney as soon as possible? Call us today.
Workers' Compensation Lawsuits
If you've been injured at work, you likely have a long list of questions like, "Should I tell my boss?" "Will I lose my job?" and "Should I go back to work this week?" Our lawyers have represented those across Montgomery County, Chester County, Delaware County, Bucks County and Philadelphia. After your initial free consultation, we'll thoroughly investigate the accident, help you to submit your workers' compensation claim, and ensure that you are treated fairly after a workplace incident. We can help if you've been injured on the job:
Construction site accidents
Factory and warehouse

injuries

Equipment accidents
Occupational hazards
Wrongful death
Other

workplace accidents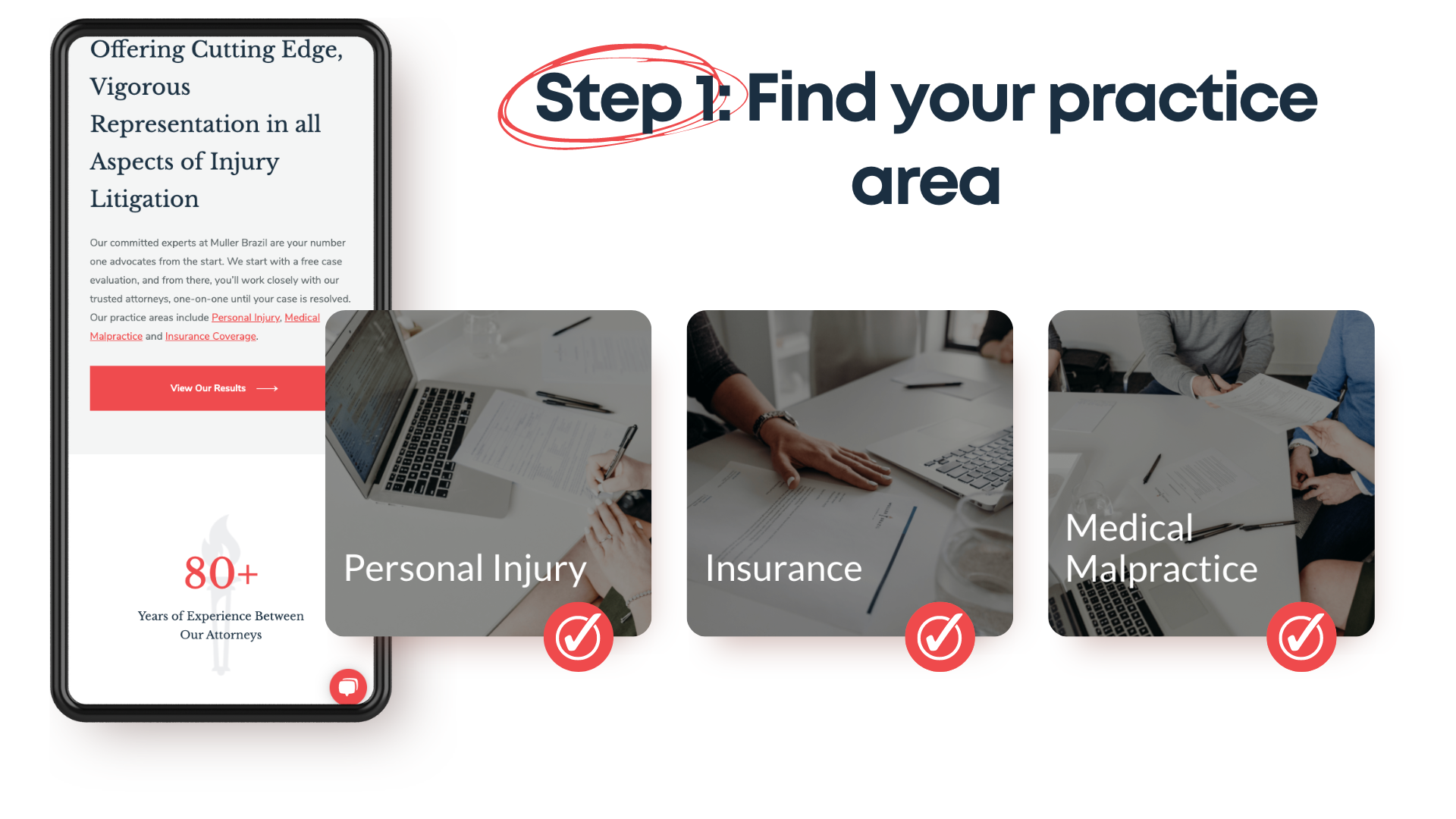 "I could write a book about the staff at Muller Brazil. Simply put, they are lifesavers." - Nikki T.
Know Your Rights When It Comes to
Workers' Compensation Claims
Employer Retaliation
If you've been hurt at work, you may be concerned about telling your supervisor for fear that you will lose your job. Rest assured, under OSHA (The Federal Occupational Safety & Health Act of 1970) it is illegal for your employer to retaliate against you in any way or try to fire you after you've filed a workers' compensation claim. If you've suffered a work injury, it is critical that you immediately notify your supervisor of your injury. Then contact the team at Muller Brazil to defend your employee rights. What to do if you've been injured on the job:
Immediately seek first aid and call 9-1-1.
Tell your supervisor that you're hurt.

Pennsylvania workers' compensation law

requires that your supervisor be notified of an

injury

within 120 days.
Obtain

legal representation

with Muller Brazil - we'll help you navigate next steps while you recover from your

work related injury

.
Submit your

workers' compensation claim

.
Collect data for your legal case (if applicable).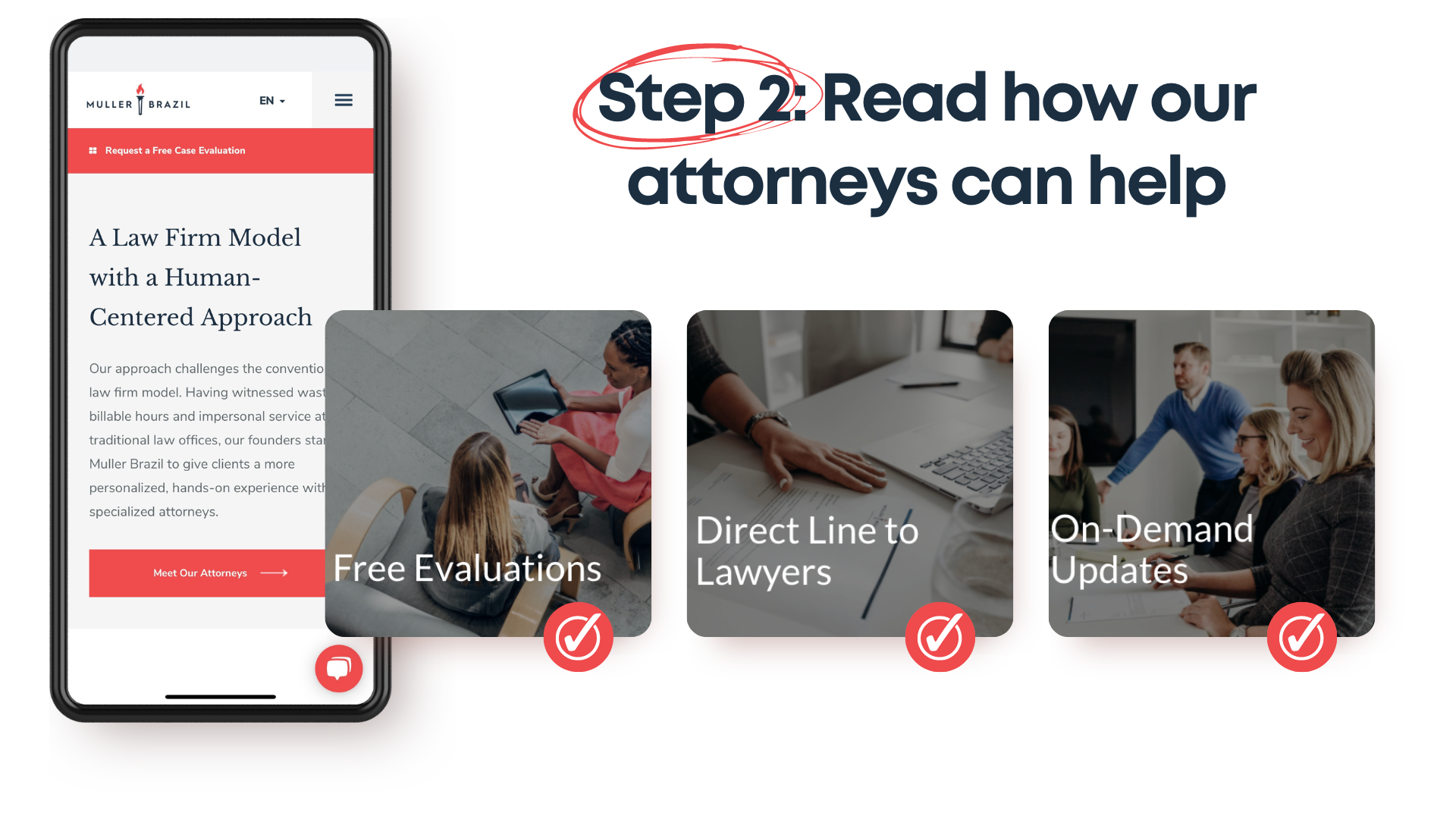 Third Party Negligence
& Obtaining a Worker's Comp
Law Firm
It may be possible to sue a third party for your accident. In a legal case against a third party, we set out to prove that the party violated federal OSHA requirements at the job site. Get in touch with Muller Brazil so we can investigate the accident and see if you have a case. Here are third parties that may be liable for your workplace injury:
Contractor
Subcontractor
Property owner
Equipment operating company
Property maintenance company
Security company
Product manufacturing company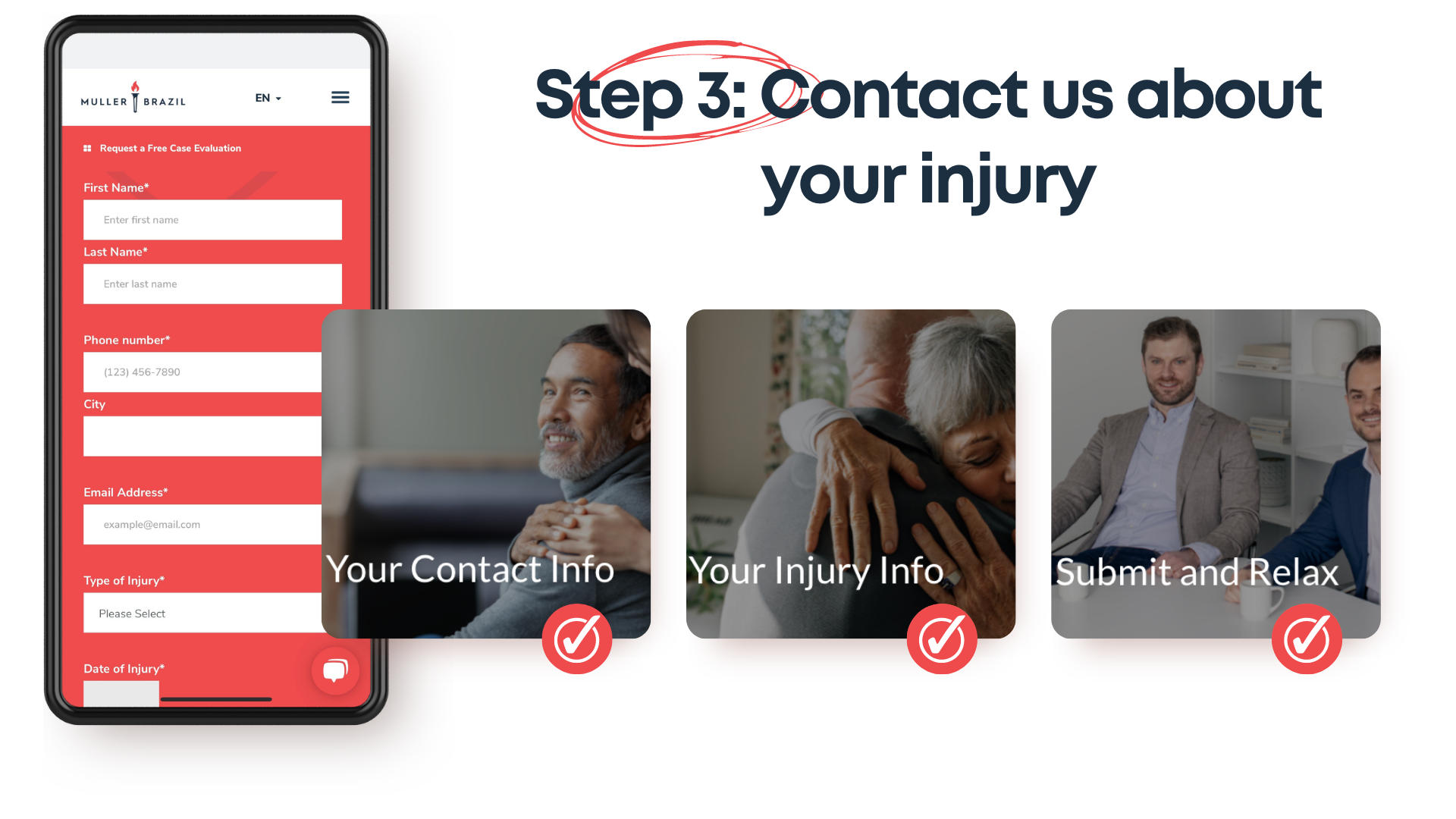 Why Choose Muller Brazil?
Muller Brazil is a personal injury firm who has years of experience dealing with insurance companies and Pennsylvania Workers' Compensation regulations. We're your support team when an injury has put you out of work. When you engage with Muller Brazil for your workers' compensation claim, we investigate all of the details of your incident to ensure that you receive the maximum benefits allowed so you can continue to provide for your family throughout your recovery.
Frequently Asked Questions
Our Consultations
Are Always Free.
Give us your name, phone, city, email and injury info so we can contact you as soon as possible for a consultation.
Don't worry, you won't be passed along to staff like other law firms - speak directly with our lawyers today.